Alidropship Review 2021: Is AliExpress good for dropshipping?
Dropshipping has become popular these days as one of the easiest and best choices to make money online. With very little initial capital, you can become a very successful entrepreneur. Dropshipping is a way of doing business that allows you to sell products without thinking about manufacturing, stock, packaging, and delivery.

Here in this Alidropship review, we will be discussing AliExpress dropshipping, which is one of the best marketplaces using the dropshipping business model. AliExpress is a vast online marketplace that lists millions of products from multiple suppliers at wholesale prices. There is no cost involved that enables you to dropship from China.

Stay tuned to get a complete guide of dropshipping with AliExpress; hence you will get to know everything about it at the end of this article. You do not have to worry about having little capital when you have AliExpress as the option.
We will also discuss is AliExpress good for dropshipping, advantages and disadvantages of dropshipping with AliExpress in this Alidropship review that will help you to gain confidence in it. Without any further ado, let's get started!
Alidropdrop Review: Table Of Contents
Alidropship Review: What Is Alidropshipping?
You may have heard about this or new to this e-commerce marketplace 'Aliexpress.' But if you want to start with dropshipping, then let me tell you that it is one of the most popular marketplaces for ecommerce entrepreneurs employing the dropshipping business model built and owned by the famous Alibaba Group.
Launched in 2010, it is now the large house for the small business of China that offers products to international buyers. A wide range of product categories and variations are available to choose from, like apparel, office supplies, grooming products, household products, and many more.
So here, you will not have to worry about the inventory or shipping and relatively easy-to-find products so that you can sell those in your store and achieve significant heights in the dropshipping business.
Thus, you can directly add the products you want to sell in your store and set a selling price for them from this marketplace. Whenever buyers order those products, then you have to pay a wholesale amount for that product. Wondering how that product will be shipped to your customer? Don't worry, it will be fully taken care of by the Aliexpress seller.
For new eCommerce entrepreneurs, Alidropshipping is very easy and straightforward. One of the many dropshipping secrets uses the AliExpress Dropshipping Center, which helps you see which dropshipper products are a success.

back to menu ↑
Why Should You Choose Alidropshipping?
A Huge Variety Of Products: More than 100 million products are listed on AliExpress so that you can choose any of the product categories for your dropshipping store.
Good knowledge and behavior: It is a well-known fact that AliExpress is an online retailer itself, but most of its users are resellers from other countries. That is why it is straightforward to use as the sellers on this platform have already dealt with dropshippers ago, so they are very welcoming.
Easy to use: There are no upfront fees to dropship with AliExpress suppliers; thus, you can get the taste of various exciting products without any financial commitment. Do AliExpress dropshipping right now from the Oberlo app just with some clicks.
Low base price: Since AliExpress is China-based, you can receive products with a meagre base price and sell them with a higher profit to achieve the best position in the dropshipping market.
A lot user-friendly: Moreover, there are many existing product images and details that you can use and modify to make them attractive and gain more customers to your store. So, after all these plus points, you may have understood the reason for choosing AliExpress over other competitors.
back to menu ↑
How Alidropship Works (Step By Step)
Now that you have gained an overall idea of Alidropshipping, let us discuss how to dropship with AliExpress because you may still be thinking that it is somewhat tricky but believe me, it is not so.
Let's take a quick look here. You will not need to spend vast sums of money, but only the following will be required:
Products (Your Niche)
Website
Supplier
An Automation tool
1. Find Your Niche
Before you set up your store, You should know what type of products you're going to sell. AliExpress has a massive range of products, and it's essential to be careful.
In eCommerce, several people face problems because they hurry to this section and fill their sites with generic items. And also, there's a tough competition out there. Choosing a specific niche is your best choice.
Do some research about which products people are looking for. Pay more attention to relevant keywords and check out all the best-selling products currently on the Amazon and eBay market.
It is also suggested that you go for the products with a high price. Usually, they're of superior quality, and it's pretty easy to charge higher fees if you're branding yourself appropriately.
If you're looking to sell in high quantities, You can choose the low-priced goods. Only make sure you select a reliable supplier.
2. Build Your Website
It's pretty easy to set up a website within few hours with platforms like Shopify or WooCommerce. They are straightforward to use and offer lots of beautiful templates and have a wide variety of tools and apps.
You can also use WordPress if you want complete control and comprehensive customization. For this, you need to purchase a domain and hosting for your website.
3. Find A Good Supplier
AliExpress is a big marketplace. That means there are both excellent suppliers and bad suppliers on the platform. All you have to do is find them. You have to do your research before you choose a supplier.
Find out how many suppliers sell the particular product you're looking for. Next, check the rating of the supplier and read reviews before making decisions. Ensure that the seller is a part of AliExpress for at least a couple of years and has an overall rating of above 90%.
Also, do check the seller's communication rating and shipping speed are above 4 out of 5. Check out the images that some customers attach when they post reviews to get a clearer idea of what the product looks like.
4. Import Products From AliExpress With Automation Tools
You can import products from AliExpress to your store in the following ways:
With Oberlo App:
Before diving into this, you may have already created your online store with the aid of some platforms such as Shopify. Now it's ready to display the products you want to sell.

Oberlo is a brilliant app that lets you do that. Link it to your store and start the virtual import of products from AliExpress. This app is a lot helpful to synchronize your imports with Shopify by sending out some notifications to you regarding any inventories or price changes from the supplier.

With this app, there are options to send specific tracking codes to your store's customers after dispatching their orders. Oberlo is a Shopify app that means it will only work on the Shopify platform.
With ALiDropship Plugin: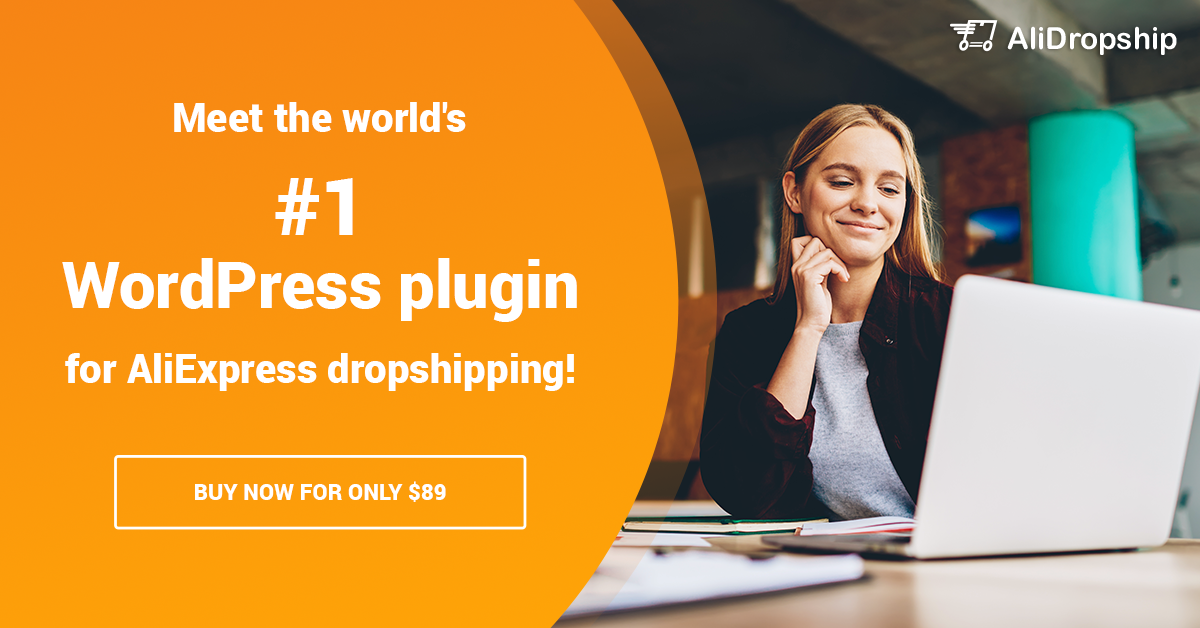 AliDropship plugin is one of the best plugins that will help you to boost your dropshipping business with Aliexpress. It is a WordPress plugin for dropshipping, which is only compatible with the eCommerce store built on WordPress.

AliDropship plugin has some fantastic automation features to help you handle your dropshipping store more efficiently. Below are some of the features:
Easily search and import products to your website.
Automatically update product information (Pricing, variations, and inventory) from AliExpress.
Built-in professionally designed themes.
It features a unique system of pricing markup formulas.
It features a unique system of pricing markup formulas.
You can show the prices of your products in different currencies.
Essential marketing tools like collecting email lists and abandoned carts are also available.
Both Oberlo and AliDropship have pretty similar features. The only thing you can decide on is the platform on which one you want to develop your eCommerce store. I recommend AliDropship because it's a WordPress plugin and makes our work a lot easier. Learn more about AliDropship Plugin. This plugin costs $89.
With ALiDropship Woo Plugin:
The AliDropship Woo Plugin is another excellent plugin for doing dropshipping with AliExpress. This plugin will only work on your WordPress website if you have WooCommerce installed. It almost works in the same way as AliDropship Plugin, but the AliDropship Plugin has many advanced features missing in AliDropship Woo Plugin. Learn more about AliDropship Woo Plugin.
5. Change Product Details
After importing products from AliExpress, the next step is to change the product titles and description to make your store unique, and it is also suitable for SEO as Google doesn't like duplicate content.

Also, many of the AliExpress sellers don't care much about writing product descriptions that they are selling. Their product prices are already low. And AliExpress is a vast marketplace getting millions of visitors a month, so they don't have to write a good description.

But as a fresh dropshipper, your website is not like AliExpress with a massive volume of traffic, nor do you have brand awareness, which is why it is good to update the description to convince your customers to purchase.

6. Promote Your Store
So now that you've set up your store, you're ready to make some sales. You need to promote your store with some freeways and make some easy sales.
The best way to start promoting your store is the social media. There are billions of monthly users on Facebook, Twitter, Instagram, and Pinterest, free to use, and you can easily promote your store on these platforms.
But there are also some disadvantages; for example, when you post several times a day on these social networking sites to get visitors and expand your audience, it takes a lot of time and effort.
Luckily, some apps will semi-automate this process to help you create your social media following and save your time and effort.
There is a great plugin created by AliDropshing called Social Rabbit Plugin. It is the best plugin for WordPress to automate your social media promotions. Read a detailed review of Social Rabbit Plugin. It comes with a lot of features like:
Auto-post content to your social media accounts from your website to get more followers, likes, and sales.
Follow, like, and comment on targeted audience posts using hashtags and relevant keywords.
It helps manage your media files for your posts easily by adding them manually or from Pixabay and Giphy.
The other way is SEO and paid advertising. SEO is a long-term strategy that you would need to work on regularly to see results. To rank your content in search results (especially Google), you will need to create unique, high-quality content that people would find valuable.
If you have a higher budget and some experience running ad campaigns, you can undoubtedly run paid ads in your store. The most successful ads network for dropshippers is Facebook, with over 2 billion monthly users. The other platforms you should also try are Google, Pinterest, and Instagram.
back to menu ↑
Custom Stores
Ordering a custom store is a quick and simple way to get a fully operating store ready to go from the first day. When you purchase a custom store, you will receive a professionally designed niche store that includes the following features:
You will get appealing design elements that are built with your approval.
A variety of products that suit your niche hand-picked by the expert team.
The AliDropship plugin, integrated and configured already.
Contains all of the technical elements required for your visitors to place orders and make purchases.
back to menu ↑
Premium Dropshipping Stores
AliDropship's premium dropshipping stores allow you to start a successful online business with no problems! When you buy a Premium store, you get an exact copy of a money-making, well-equipped online store, and you can start making money instantly! You can receive:
An award-winning design of your store.
An exact copy of a high-performing online store with a high volume of sales and traffic.
The AliDropship plugin.
A growing line of high-demand products.
Product pages containing high-quality images, convincing descriptions, and 5-star customer feedback.
Products supplied from the most reliable AliExpress suppliers.
A set of effective marketing elements that have been shown to attract and engage the audience.
A personal manager who will provide you guidance and support.
back to menu ↑
Most Profitable Dropshipping Niches For 2021
Before starting dropshipping, you need to choose a niche with low competition and high search volume, which is always a significant challenge.
Below are some of the most profitable dropshipping niches which have low competition and lots of potential customers:
Home office equipment
Solar energy products
Lifestyle
Health and beauty
Bluetooth gadgets
Eco-friendly products
Home decor
Kitchenware
Bathroom accessories
Car accessories
back to menu ↑
Pros And Cons Of AliExpress Dropshipping
Positives
Very minimum start-up cost.
Don't worry about risk because it is very low.
Flexible location, you do not have to worry about your location. You can operate your dropshipping store from anywhere in the world.
No overheads because you need only a laptop/PC and an internet connection with some amount of quality time.
With plugins, you do not have to worry about design or anything because everything will be automated.
You can sell unlimited products. There is no limit to the number of products to list in your store.
Negatives
Dropshipping is very competitive as it is not a new concept. You have to face tough competition.
No control over your suppliers; their delivery process is the most significant disadvantage.
Shipping time can be high from some weeks to months because it will be delivered from China.
There can be a lower profit margin due to high competition.
back to menu ↑
Alidropship Review: Conclusion
Dropshipping is a great business idea with AliExpress. You will have a range of products to re-sell at high margins, and also, you don't need to invest a massive amount of money.
Thousands of entrepreneurs have gained a lot of profit from dropshipping and established their careers in a good way. So start your career with this Aliexpress dropshipping to smash your goal of becoming a successful entrepreneur. With the AliDropship plugin and AliDropship Woo Plugin, you can run your online store quickly.
I hope you have liked this article on Alidropship review and decided your mindset to boost your career with this Aliexpress dropshipping.